Gin
Kanji

ジン

Rōmaji

Jin

Alias

The sword leading Queen
Big Sister Scarlet

Characteristics

Race

human

Gender

Female

Age

22(debut)
29(timeskip)

Birthday

Year X765

Hair Color

cream and vine red

Eye Color

red

Professional Status

Affiliation

Lamia Scale

Previous Affiliation

Rune Knights

Guild Mark Location

On the left chest between the breasts

Occupation

S-Class Mage

Previous Occupation

Magic Council

Team

Team Gin

Partner(s)

Ryu Sanada

Base of Operations

Lamia Scale Guild Building

Personal Status

Status

Alive

Relative(s)

Ryu Sanada(husband)
Erza Scarlet (younger sister)

Magic

Magic

Requip: The Royal Queen
Sowrd Magic
Gravity Manipulation

Weapons

A long Broadsword
Wire whip with tines

Debuts

Manga Debut

Chapter 256

Anime Debut

Episode 124

Portrayal

Japanese Voice

Fumiko Orikasa

Image Gallery

Gin (ジン Jin),or Gin Sanada, is a S-Mage of the Lamia Scale Guild and a member of Team Gin. She was a member of the Rune Knights and she use the Magic Gravity Manipulation. Since 1 year she is married with Ryu Sanada.
Appearence
Gin is a young woman who has long hair, that is on the top crimson red, bottom cream. Her red eyes without iris are encircled with a slightly pink. She has a slender figure and like most females in the series, she has large beats. Her most common attire consists of a very provocative outfit comprising of a beige revealing, halter-type armor breastplate top, that leaves much of her cleavage and stomach exposed, with light-armored gauntlets and greaves on her forearms and forelegs, respectively, as well as her thighs. She also wears a dark midriff-baring top with a piece of cloth obscuring her hips. She wears a purple scarf around her neck. At her whole body she has black tattoos that like snake winding on her body. Her Lamia Scale stamp is also black and located on the left chest between the breasts.
Personality
Magic and Abilities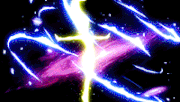 Requip
:
The Royal Queen
(換装 ザ・ナイト Kansō Za Naito): Requip is Gin's signature form of Magic like Erza, over which she possesses great mastery. It is a type of Magic that allows her to swap weapons, armor and clothes at will. Her particular form of Requip is called "
The Royal Queen
". Because of her strength they called she
"The sword leading Queen". 
Equipment
Gin owns over 100 different types of armor.
Gravity Amour
( 重力鎧 Jūryoku no yoroi) 
Black Angel Amour (ダークエンジェル鎧 Dākuenjeru no yoroi) 

Golden Zodiac Armour (ゴールデン黄道帯鎧 Gōrudenōdōtai no yoroi)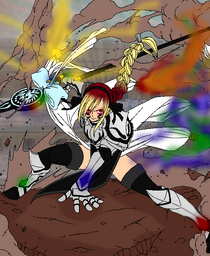 Elemental Armour (エレメンタル鎧 Erementaru no yoroi)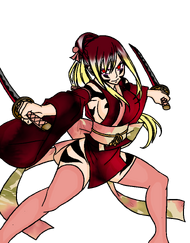 Robe of Kitetsu (キテツのローブ Kitetsu no rōbu)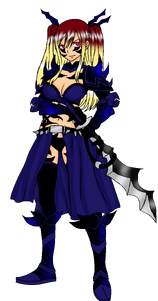 Midnight of hell Amour  (地獄真夜中鎧 Jigoku mayonaka no yoroi)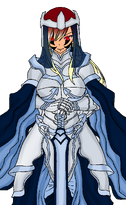 The Royal Queen Amour (ロイヤルクイーンアムール鎧 Roiyarukuīn'amūru no yoroi)